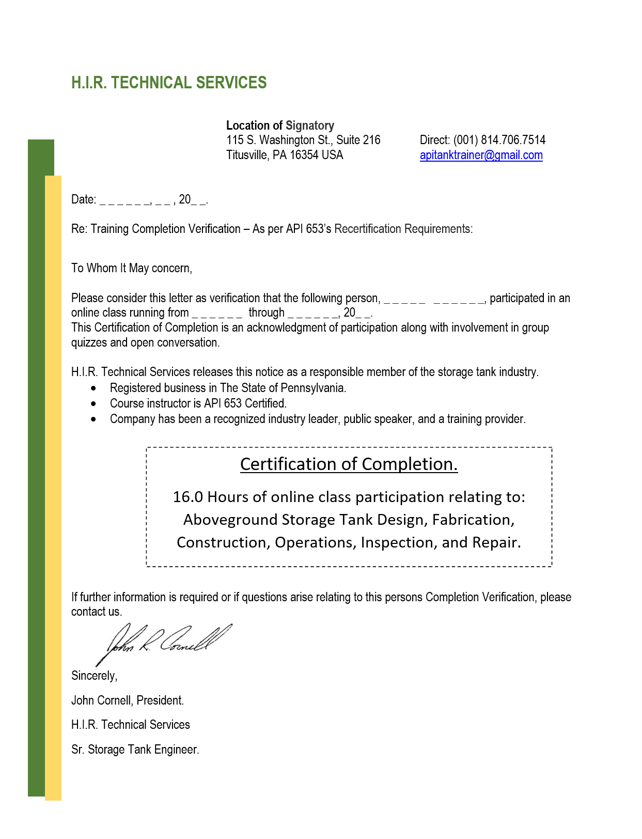 A Two Day "Performing API 653 and STI SP001 Inspections using guidance found in the API RP 575, Inspection Practices for Atmospheric and Low-Pressure Storage Tanks.
/
Course summary:
This two-day course was designed by Mr. John Cornell and is intentionally designed to show current tank inspectors how to use and to understand the intent of the contents of found within API 575.
It has been updated and is ready for 2023 - 24.
The course scope is copied / pasted directly from API 575:
Our Training to API 575 addresses the following:
a) descriptions and illustrations of the various types of storage tanks;
b) new tank construction standards;
c) maintenance practices;
d) reasons for inspection;
e) causes of deterioration;
f) frequency of inspection;
g) methods of inspection;
h) inspection of repairs;
i) preparation of records and reports;
j) safe and efficient operation;
k) leak prevention methods.
API states that this Recommended Practice (RP) is intended to supplement API 653, which provides minimum requirements for maintaining the integrity of storage tanks after they have been placed in service. Our class also helps the attendee to apply the contents of API 575 to Inspection performed in accordance to STI SP001.
Continuing Professional Development (CPD): After successfully
completing this course, participants will receive a digital
Certificate of Completion awarding 16 CPD hours. >>>>>>>>>>>>>>>>
The next class date is August 29 - 30th, 2023
(2 days), only $475.00 USD.
Venue: Online only. Starting at 8:00 AM - 5:00 PM (EDT)
Instructor: John Cornell. Substitutes and guest speakers
may be used if needed.

Private courses can easily be scheduled.
/
TERMS:
No refunds can be provided after registration is complete.
Substitutions of attendees is permitted.
In the event of class cancellations, a full refund would be provided,
however any and all charges incurred relating to travel and etc. are exempted from our refund polices.
/
"Special Offer" pricing applies to previously agreed upon situations.
Please call us for pricing deals.